Almost Heaven
by Ela Zapf
Copied with permission of 'PastelPaper', Pastel Artists of Hawaii © 2005
Almost heaven, that's what a weekend at Kailua Beach painting with Mark Norseth, with three gourmet meals daily plus accommodation at a charming beach house turned out to be.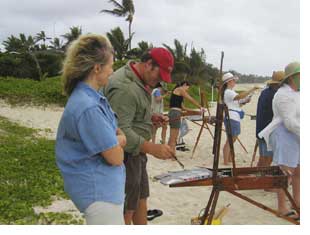 When I received the invitation, I thought how wonderful it was to be part of a painting retreat workshop. Although the workshop was intended primarily for oil painters, I signed up and found myself in good company with my pastel friends, Judie Boutá and Fong Ling.
Norseth began with an orientation and the objectives of the workshop. Each person's equipment was checked to make sure it was appropriate for plein air painting — some of us were first-timers with brand new easels and had never been out on location.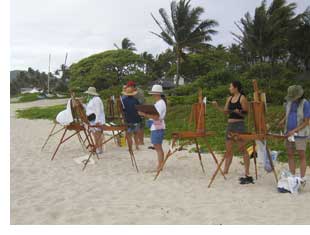 Mark addressed the elements of composition for plein air painting and provided us with lots of examples of his own artwork along with plenty of literature on art. Watching Mark's demonstration with oils gave us important keys to understanding seascape painting. The goal for the weekend was to sketch the beach and that kept us busy. Dealing with the changes in light and color was a big challenge for most of us. After a few hours in the sun, most of the group decided to hang out in the shade. A delicious chicken sandwich for lunch and a nap later, we ended up again on the beach painting until sunset. An evening barbecue spun an unforgettable evening in the backyard of our charming beach house.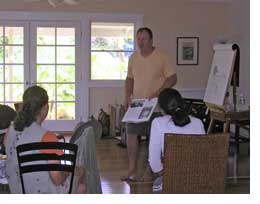 On the last day, people were already busy painting on location at 6:30 a.m.. Everyone was happy, relaxed and suntanned. I still can't believe how quickly the weekend passed. For me, it felt like a short holiday on beautiful Kailua Beach. I really enjoyed painting outdoors and plan on doing more in the future.
Thanks, Mark, for your great introduction to plein air painting, please sign me up for next time. And a special thank you to Iris, who pampered us with the most delicious homemade meals.