I had the chance to take Harry, a young artist-visitor from New York City,  for an afternoon of sketching.  After some quieter stops, I said, "Let me take you to a spot that'll knock you out.",   and we drove the dozen miles to what is sometimes called the Lanai Lookout; an angular, haphazard volcanic flow of once-liquid basalt which tumbled and oozed downhill until arrested by the waters of the Pacific at the base of Koko Crater a jillion years back. Rocks meet Ocean.
Mainly local fisherman are found down below the safety of the parking area, but it's a favorite painting spot for me…the contrasts are stark, the elements are simple and vivid, and the ocean is loud, unpredictable, and dangerous.  You stay on your toes down here, it's not a place to let your guard down.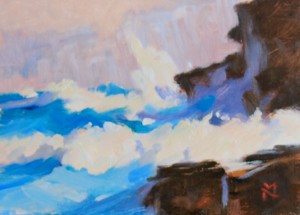 If ever there was a situation where an artist is called to radically simplify and organize the raw material before him, this would be one of them.  It's visual bull-riding.   The only hope for an intelligible sketch is ignoring half of what you are seeing and thinking design first because  two thirds of the elements (the ocean and the light) are in constant, fast transition… the rock formations are the only non-moving element to anchor the composition with.
So, I enjoy stubbornly working out quick oil sketches in the wind and racket and seeing what I can bring out of this place. The hardest part? Keeping the ocean alive and moving in the painting itself, not freezing it as the camera would. That's very much a design issue, I find.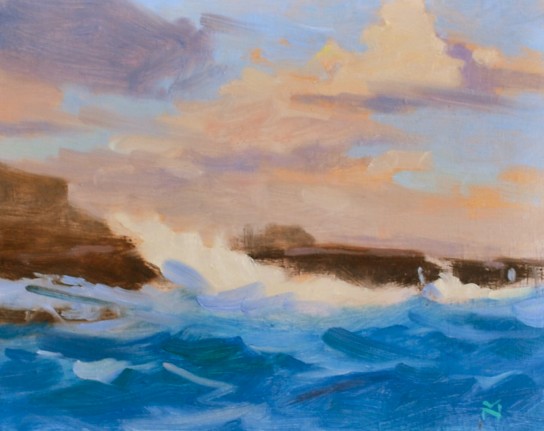 Top:  Sea study, oil on panel, 5 x 7″
Bottom: Sea study, oil on panel, 8 x 10″
If one is really serious about painting the ocean, the experience gained from these small paintings is invaluable. I have the hope of  gaining a comprehensive knowledge of the ocean and an increasingly reliable eye from making these.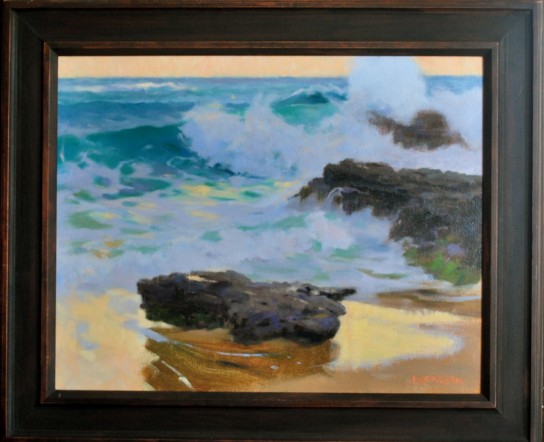 This last piece is from some years back, painted near where the sketches above were done.  It's a favorite of mine  because I believe it is successful in capturing movement,  in the arrangements of darks and lights, and truth in the color effect— a hard thing to catch outdoors, at least for me!