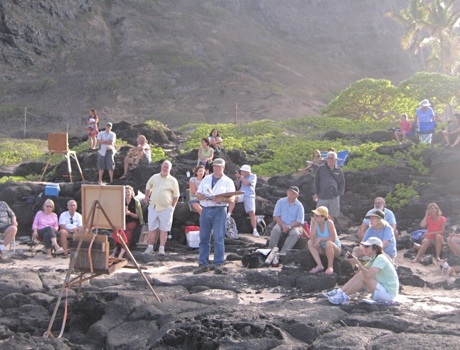 Plein Air painting classes
To successfully paint out-of-doors is an exhilarating experience, yet it requires knowledge, preparation, and training to read nature's ever-changing moods and interpret them for others to enjoy.
Classes are taught on location, and instruction is offered in both oil painting and soft pastel.

Here are a few of the topics that we will explore:

The sketch, the study, and the painting
Elements of composition in plein aire painting
Keys to understanding the sea
How to start/when to stop
Planning and spontaneity
Getting to the point, and what to ignore
Dealing with changes in light and color

Click to open the class brochure for more information and registration.

To reserve a space or for more information call 808-263-2013 or e-mail: mark@marknorseth.com

The Summer Group class meets from 9:00 to 10:30 A.M. each Saturday for eight weeks. It includes numerous demonstrations of techniques and principles involved in outdoor painting in both Oil and Pastel.
Saturday Class schedule:
June 12th through August 7, 2010. Make up classes TBD.

These two plein air studies were preliminaries for the painting "Cloudburst-The Pali".

Painting the Head & Figure- Long pose
Tuesday 6:30 pm - 9:30 pm at Linekona
To register please contact the Honolulu Academy Art Center,
808-532-8741.
Almost Heaven - A workshop with Mark
A weekend at Kailua Beach painting with Mark Norseth, with three gourmet meals daily plus accommodation at a charming beach house is called "Almost Heaven" by workshop participant and pastel artist Ela Zapt.
Click to read the article that appeared in the Pastel Artists of Hawaii newsletter.
Free Plein Air Painting Demo Summer 2009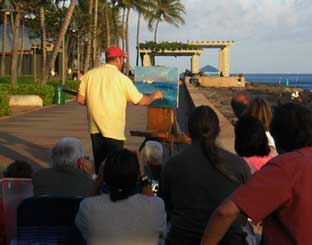 Mark Norseth's "Painting the Sea from Life" painting demo is an annual event that is free to the public.
The summer 2009 event took place at the Kaka'ako Waterfront Park. Pictured, a crowd gathered to watch Mark paint and talk about working out-of-doors.