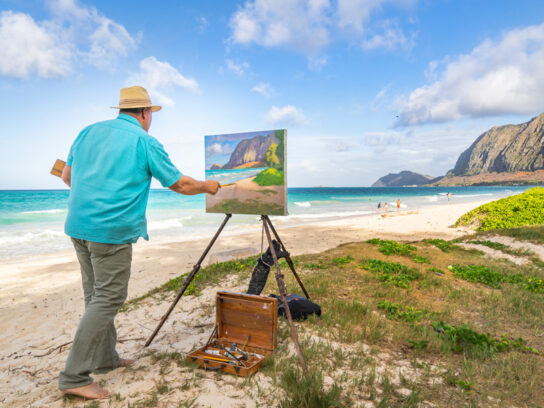 Mark Norseth began painting at age 11, working in watercolor along the coast of Washington state under the guidance of Charles Mulvey. After finishing studies at the Museum Art School in Portland, OR, and starting work as an illustrator in the Pacific Northwest, Mark moved to New York City to continue his study of painting. During this time, he continued to support himself as a freelance illustrator, a period which lasted over a decade. This income allowed Mark the opportunity to scour the museums and galleries of the city to study the great painters and paintings present there. Further study at the National Academy of Design, New York Academy of Figurative Art, and the Art Student's League provided a solid technical base. Always with the goal of becoming a painter, Mark considers himself fortunate to have received instruction from James Childs, Curtis Hanson, and Hilary Holmes, all former students of R.H. Ives Gammell of Boston.
Mark moved with his wife Iris, and son Erik, to the island of Oahu, Hawaii, and in 1998 began painting the pictures he'd long been hoping to. He is confident and fluent in watercolor, pastel, and oil painting and has won awards in regional and national exhibitions in all three mediums.

Exhibitions have included the Adirondack Exhibition of American Watercolors, Academic Artists Association, The Pastel Society of America, The Hudson Valley Art Association, Hawaii Watercolor Society, and many others. In addition, Mark's oil paintings, watercolors, and pastels are highly-valued in collections worldwide.