Mark is a naturally gifted teacher with a heart for encouraging traditionally accepted painting fundamentals. Mark has taught through hands-on, real-life applications and disciplines for over two decades. If you have an earnest desire to grow in your artistic abilities and your love for painting, here are various ways you can get involved through personal instruction.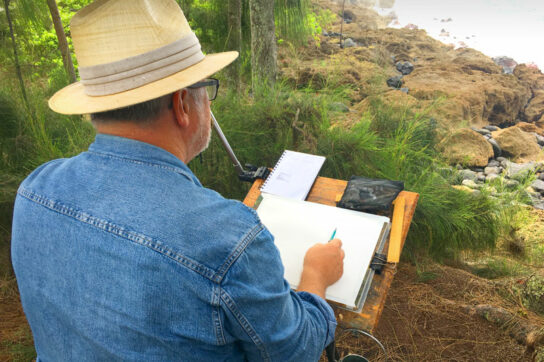 Individual instruction is available at my studio for those seeking personal, one-on-one teaching. As a teacher, I aim to provide sound guidance for my students on their continuing journey towards competence and confidence. We begin with a short personal interview, and from there we design a course of action that, when followed, will lead to optimizing a student's talents. To witness a student's progress in overcoming old obstacles and seizing higher ground in their work is a rewarding experience for all of us!
Instruction in various mediums and methods are offered individually at Mark's studio in Kaimuki or outdoors in the case of landscape/seascape painting. To share your interest in personal, one-on-one instruction with Mark, please fill out the contact form below or call Mark at 808-341-7047.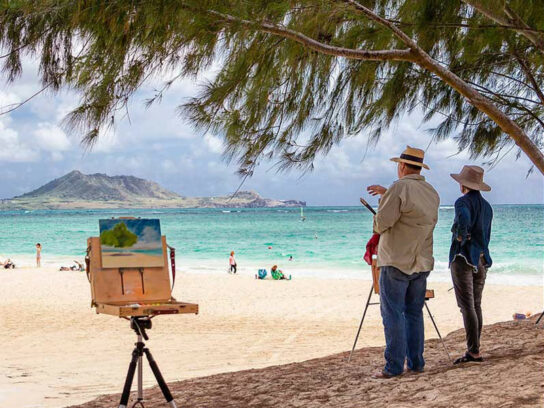 The Plein Air Gang of Six
The Gang of Six is a group of six painting students who meet Wednesday mornings at various outdoor locations around Oahu. This group focuses on composing and creating compelling outdoor paintings based on time-tested strategies essential for artists looking to advance and expand their artistic abilities. 
Mark uses his 25 years of experience to provide real-time painting techniques, suggestions, and individual and group demonstrations throughout the class. In addition, homework assignments are given and critiqued. This class is for somewhat experienced painters, and we welcome new members when openings arise. 
To ask questions, reserve your space or be added to the waitlist, please fill out the contact form below or call Mark at 808-341-7047.