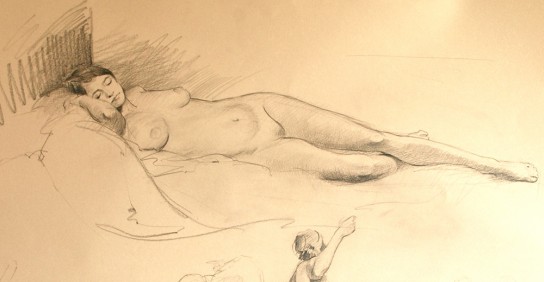 I love drawing.
I love the discipline mingled with the exciting possibilities, the reminders that occur as I examine how wonderfully we're put together.  The lines, shapes, the unbelievable functions, and how they complement one another.  The economy of it all. We're vessels in many ways, vessels that house a soul and spirit as well as mechanisms.  What better use of time than to spend an evening each week  drawing the figure of an enthusiastic model?
My usual practice is to use a good quality paper,  and draw the sequence of poses on one or  two sheets. This can result in a more interesting final piece, if  things work out. That's the point of using a decent paper, I want something archival for those times when I get something truly worth saving. One never can tell when that will happen.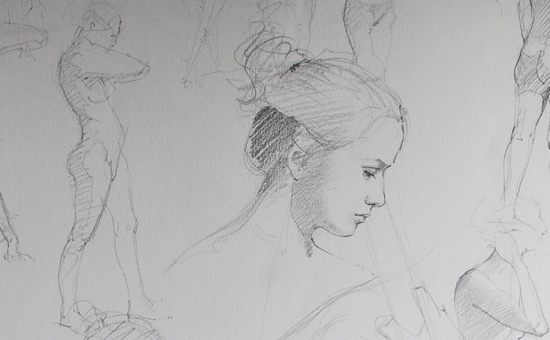 For the gestural poses, those five minutes and under, I look for the relationship of the three main masses and a line of action. Sometimes I use block forms, sometimes not. I compel myself to do things that are not the usual, like beginning with the placement of the feet and working up the figure. or making all of the quick poses tiny, and creating a montage of them in serial form, arranging them to create a pattern on the page. One can do whatever one wishes, and for a professional artist it's great to be able to play with no strings attached, no public to please.
For longer poses, those up to one hour, I simply do as much as I can. "Seeing the whole", measuring well, finding better ways to express a form,  and hopefully creating a  palpable image…. these are my goals.
Here are a few of the things I've done in the last six months or so.  The bad ones get tossed, and  believe me, they are plentiful.  But some evenings, you pull something together with some quality that you are pursuing, and it's delightfully rewarding.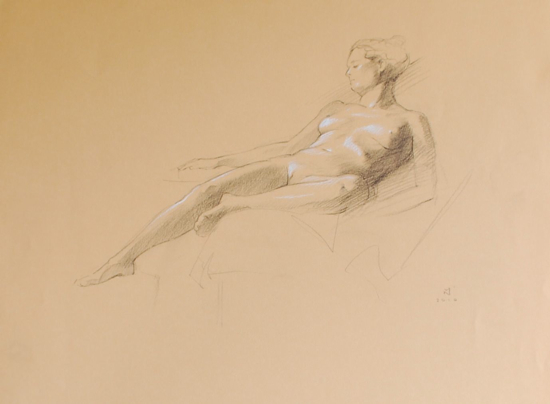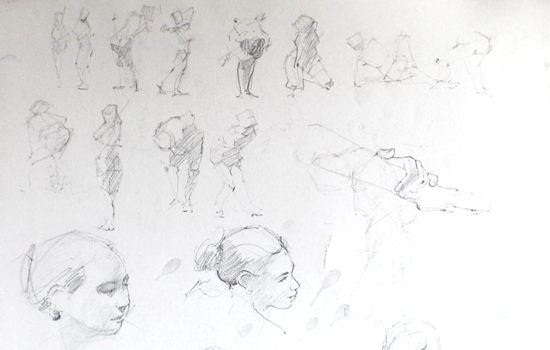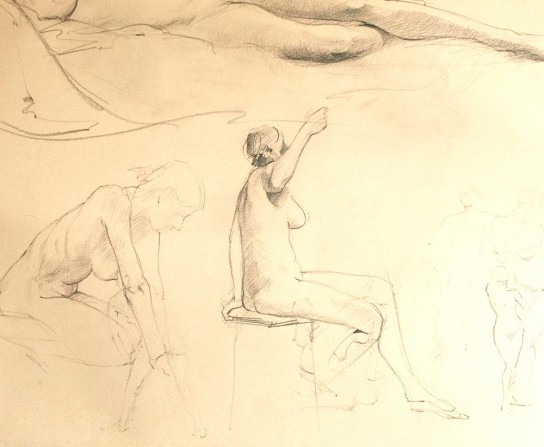 If you'd like to join me and some like minded enthusiasts, I conduct  a life drawing studio class at the Academy School at Linekona.  Call 808.532.8742 to get enrolled. It's great, and it's open to you.