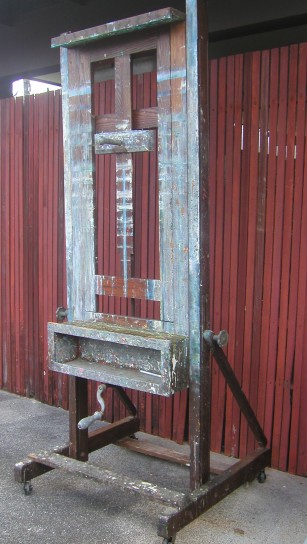 About eight months ago, I had the opportunity to acquire this beautiful old Freidrichs easel. It's in good shape for it's age, which I guess to be pre-WWII, though I don't know for sure.  While doing some digging I learned that this is known as the Barclay easel,  designed by illustrator McClelland Barclay, who was quite the innovator in numerous ways.   The manufacturer  at some point changed it's name from Friedrichs to the familiar (to artists) Frederix company.  It's solid red oak throughout, and the crank mechanism works perfectly well.
I've  always  hoped to find something like this wonderful easel and bring it back into service.  When I discovered it, covered with dust and tucked away in a basement, I was delighted. Thanks again, Brad!
After a good amount of deliberation, I decided to strip and refinish the easel myself.  This is the easel in the condition in which I received it, the only real damage is a bit of termite activity that's not threatening anything.  I'll post some shots of the refinishing as it gets farther along.
In doing the research, Learned that this was the preferred easel of Norman Rockwell, and found many shots of him working at his. This is a favorite.