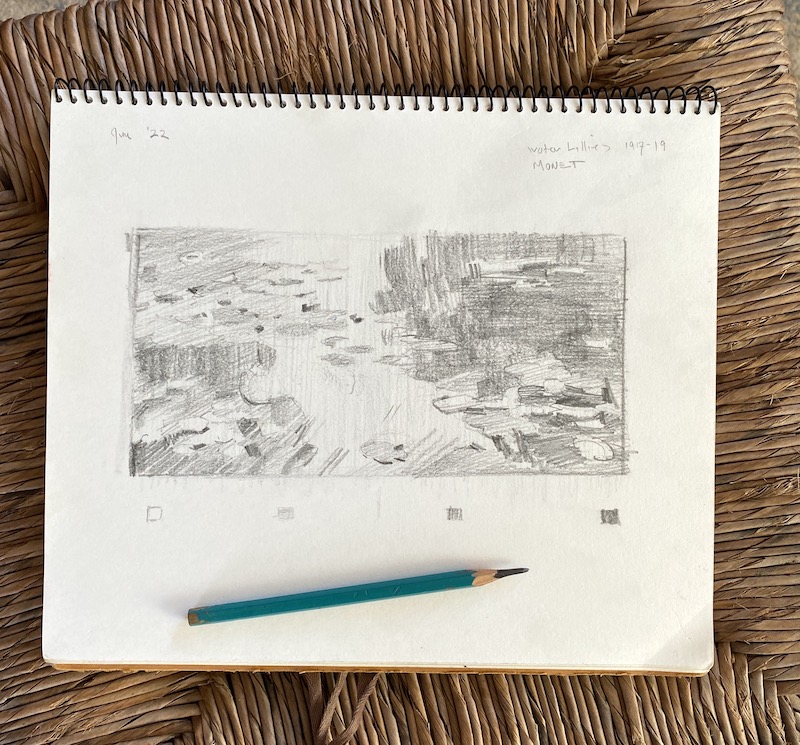 We know that with practice most artists will get a handle on "how" to paint the parts of a picture. But the composing of pictures is a different and more personal undertaking…to be honest, a rewarding and life-long investigation. 
The Power of Pattern
In my ongoing search to learn how to compose (organize a painting well), I realize that I'm drawn to certain pictures by some vague attraction that I can't account for. I eventually realized that pattern was the power at work. More fully, the abstract pattern of lights and darks of a painting has a strong effect on what attracts the eye. 
The 4 Value Study
Naturally, if composition does have such an impact, let's try to understand how that works. In working out a solution I decided that study of paintings I admired and which spoke to me was a great place to begin. So, sketchbook in hand, I studied paintings in books and museums to see what I could learn that way. 
What I'm about to offer here is the simple method which resulted, which I call the 4 Value Study.  This method can be helpful  in two important ways. First in studying the work of artists and paintings you admire, and second, in then beginning your own paintings. 
The 4 Value Study and it's benefits
Among the benefits are
 it can be done in a short amount of time, (in my example here, about 25 minutes) with simple materials, and in your personal sketchbook. This enables you to easily review.

 



The exercise positions you to retrace the original artist's steps, because you start with the "big pieces" that make up the underlying structure. This puts you "looking over their shoulder" in the decision process.
With only 4 values to work with, you simply must  ignore details and and instead learn to see the painting simply in terms of a pattern…that is an intentional arrangement of big values and big shapes. 
 Once it's familiar, you'll want to see and plan your own paintings by values and shapes.  In my case, it's second nature before commencing work on an actual piece, and it lends our work more strength and clarity because you've effectively visualized essential decisions before starting the final work.
Where do I start? 
For starters, copy a good painting from a good source….it's said "we are what we eat", so feed on the best.   Find a painting that you admire… a painting that you wished you could paint. I sometimes look online, on sites such as Pinterest, and have particular artists I find especially beneficial. Their small studies are often in the same mix with their completed works and are great helps.  Also, books and catalogs from museums, available free at the library, are a good place to poke around for images that stir you. But best of all is before an actual painting in a museum, which is a wonderful means of making the most out of a visit.  Nobody will mind your sketching in a small sketchbook, and actually other people may be interested/inspired to see you working.
If using a photograph to do the exercise, choose a photo in color rather than black and white.  The advantage of color is that you'll learn to read the value of color, which takes some practice, rather than having it done for you by a black and white reproduction.
The only tools I use are a soft graphite pencil (6B often), and an artist's eraser at the end for cleaning things up.  And as I've mentioned, I like to mingle the 4 value studies in my regular sketchbook that I do my other work in.
Procedure
For the demonstration, I'm using a sketchbook and a printed image from a book I own. The painting is by a favorite Russian impressionist, Isaac Levitan, and was picked for its full value range and interesting big shapes. He's a favorite artist of mine, so what better way to learn about his work?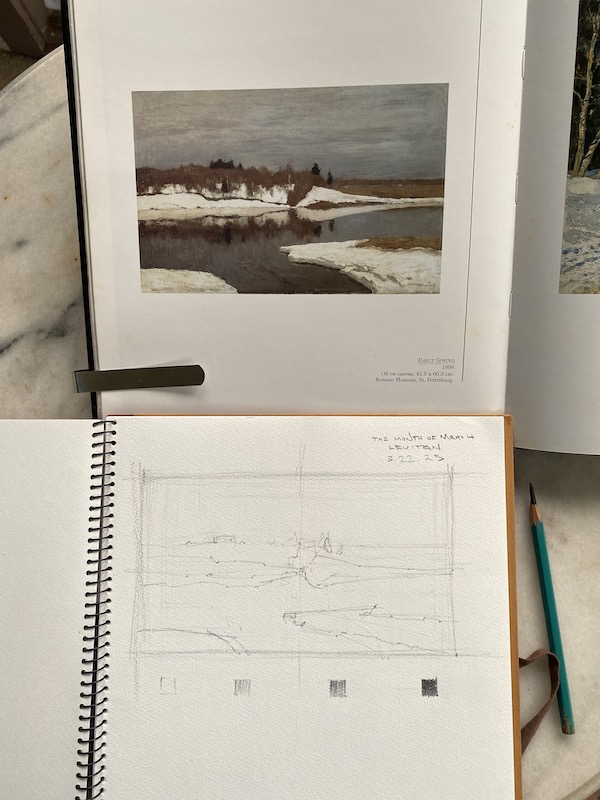 The art and the sketchbook positioned for easiest comparison. 
In the image above, my sketchbook and soft graphite pencil are at hand, and the painting I'm working from is immediately in front of me at a comfortable angle. This is so my eye travels the shortest possible distance to compare the image and the drawing.
The first step is to find the proportion of the rectangle that I'm copying. I'd like you to do it by eye, and without a ruler, since   we're learning to trust our eye. It needs to be the same proportion (size) as the rectangle in the reproduction.  You can see faint lines to help show the center of the rectangle…and it's okay of they are loose and sketchy at the start.
The next step is to make a scale of 4 steps.  Start by drawing a white box, two more empty boxes, and then a very dark box, like I've done at the base of the drawing above. This is the outside range of our pencil's ability to create light and dark, and between those two boxes, create a light grey and a darker grey. Try to keep the steps between all four values even. 
Important-everything within your drawing is going to be in one of these four values, even though you'll see many more values in the painting than four. Your challenge here, and the benefit of the exercise, is to simplify the many values of the painting into four. 
As you start the drawing the outlines within the rectangle, start with the most important big shape.  The dark water forms a big shape, and the sky another, so I'd start with one of those. Try to place them as accurately as you can, and with a very light sketchy touch. Study the original and compare the big shapes to what you're making, and adjust if you see something that looks off. This is best so you can avoid relying on an eraser too much. Almost everything in any drawing will start out very light, very sketchy. You can always commit to going darker once you've confidently arrived at where the proper position truly is.  It's a great habit to learn.
Also, do yourself a favor…and try NOT to do this quickly."Speed of execution" is not helpful nor a good strategy. Savor the time with a great painting. Learning to gradually get the big shapes correct is the important thing, and you'll find that you improve more quickly by taking it slowly. 
Second Step
Our second step will be to take our lightest of the two grays and cover the paper with everything that isn't going to be white, or grouped in the lightest of values. This is what I've done in the image below. I'm a right-hander, and so I usually do this with close hatching lines going right to left at a 45 degree angle. You can see what I did in the photo, and is the easiest and most natural way to lay down a gray.  We're reserving the white, much as a watercolor painter does… but everything else, being darker than our white (and very lightest color values) will at least be the second grey. So you can cover everything but the light group with our lightest grey.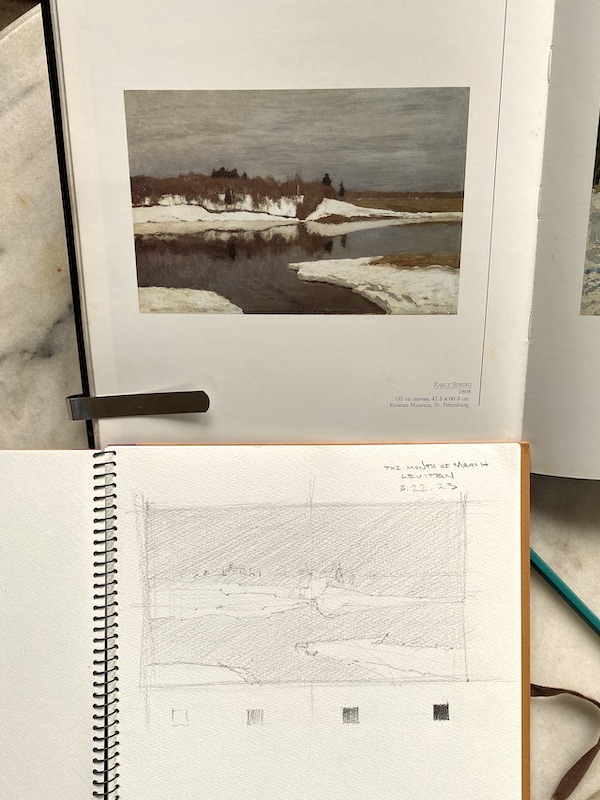 Third Step
The addition of the first grey sets us up for the next, darkest grey, which is equidistant in value from the light grey to the black.  The fact that we've already applied our light grey over everything that's not in light now works to our advantage because that's a good foundation for this dark grey value to follow. Anything that's not in the darkest dark or the lightest grey will be made of this value, regardless of what type of object it happens to be. And remember, it's only shapes we're interested in, not any details. 
You'll eventually see that this requires us to make decisions about how to group things simply.  Four values aren't nearly enough to account for everything we see in a painting, but that's the good part…we now have to forget about what things "are" in the painting and work abstractly as a designer…grouping values together regardless of what they represent (sky, water, hills, etc.) in the picture.  
Final Step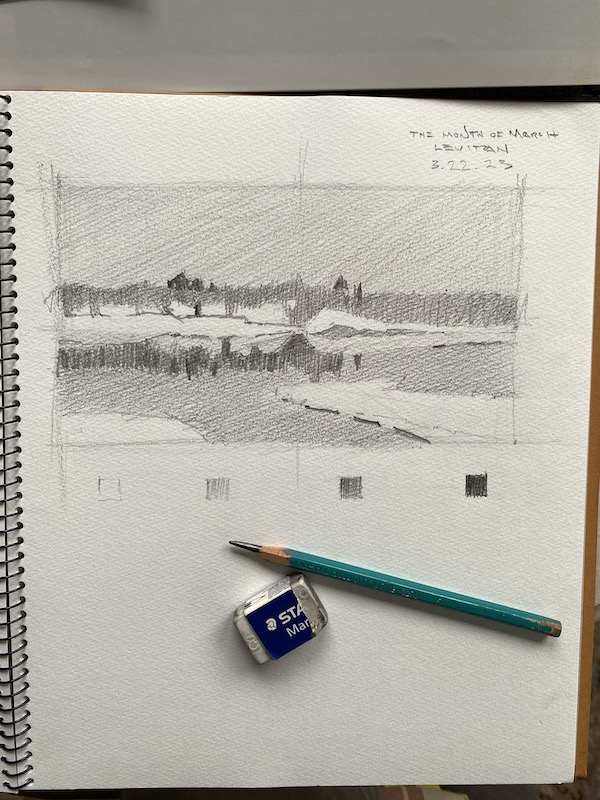 In this final step, it's simply a matter of adding the pattern of the darkest darks to the other three. This is where it's advantageous to have used a soft pencil; it makes that darker value easier to apply richly.
After doing so, I finally clean up the whites a bit with my eraser, re-adjust the values a bit overall, and enjoy the drawing and painting. A light application of a spray fixative isn't out of the question, either. 
Conclusion
One of the main task of the painter is to arrange and organize the content of the work. Most come to realize the importance of this later rather than early. The wealth of preliminary sketches and drawings and by the great painters often show how important they knew this branch of the work to be. With this method and some practice, you can learn the thinking they put into their own paintings, which is information that you probably can't get by just looking and admiring. 
Another great benefit is that when you are in the field working out a painting, or in a studio with a model, or a still life, this practice is a perfect skill set to help you quickly determine your design. 
I hope you'll give this a try…and would love to hear about your experience or any questions. Feel free to comment, and GOOD LUCK!