I use a fairly large number of paint brushes in an average plein air painting session, perhaps 10-15 on a busy day.  At the end of the day, they need cleaning and TLC, but there's a problem… keeping the many used brushes separate from the clean ones still in my box.
A very reasonable and simple solution is to put together a carrier using something that many painters already have access to… a cardboard shipping tube from a roll of canvas.   In addition to the tube,  all that's necessary is a quick  trip to the local hardware store for what are called an expansion cap (pictured below with wing-nut) and a clean out cap, both from the plumbing section.  Be sure to measure the diameter of the tube for a snug fit.
Using a handsaw, I cut the tube about 4″ longer than my longest brush.  Next, I shellack the cardboard tube to help  with water resistance.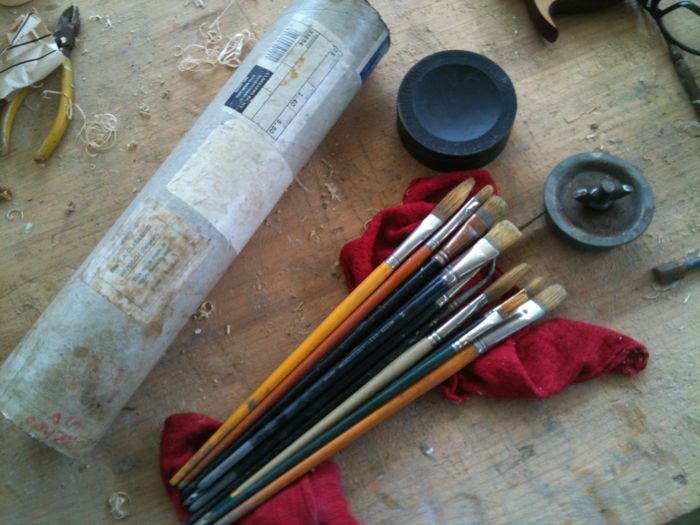 It's pretty much that simple.  The rubber cap fits snugly on the bottom, where I sometimes store an extra auto shop towel (my preferred painter's rag), used brushes then sit atop the rag, and the actual rag I use during the session goes atop the bristle end of the brushes. The expansion cap fits perfectly atop the open end of the tube, providing a virtually airtight seal.  This airtight quality is helpful after a full day in the field if I don't get to my brush cleaning duties until the next morning, which does happen.
The entire container fits into my backpack. I've used this setup for 15 years and it's been well worth doing.