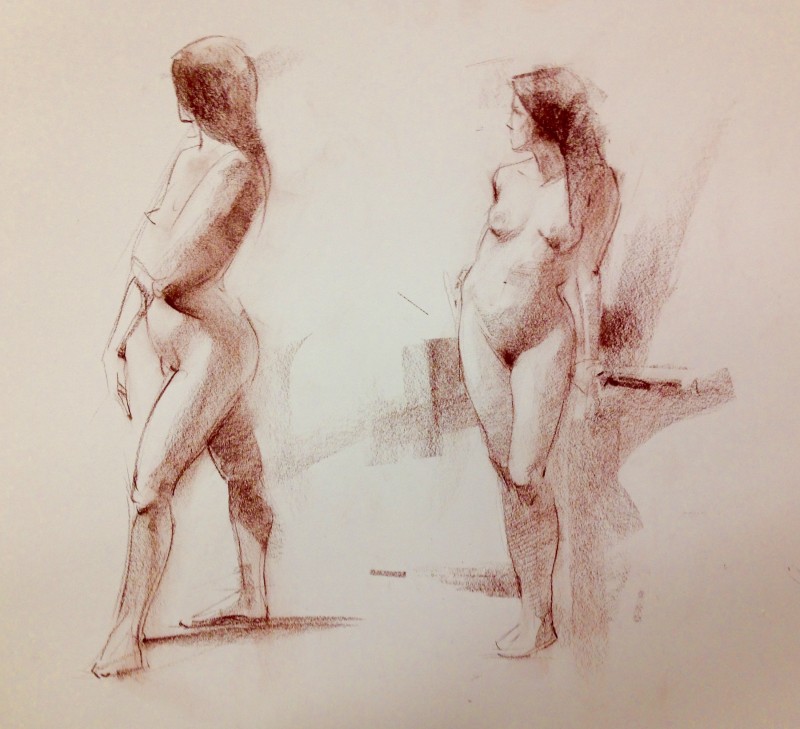 I'm gaining a deeper appreciation of what may be the difference between a painter's drawing and a draughtsman's.  They overlap a great deal of course, but from my current point-of-view they differ in intention enough to be in separate categories.
Most of my figure and other drawings over the last 25 years have been focused on point-work; refined outside shapes, then carefully modeled with the point of a sharpened tool (graphite, charcoal, carbon, etc.).  That's all been good…I would still proceed that way today without hesitation and I'd recommend it to anyone who asks me.
This drawing is a typical piece from that procedure.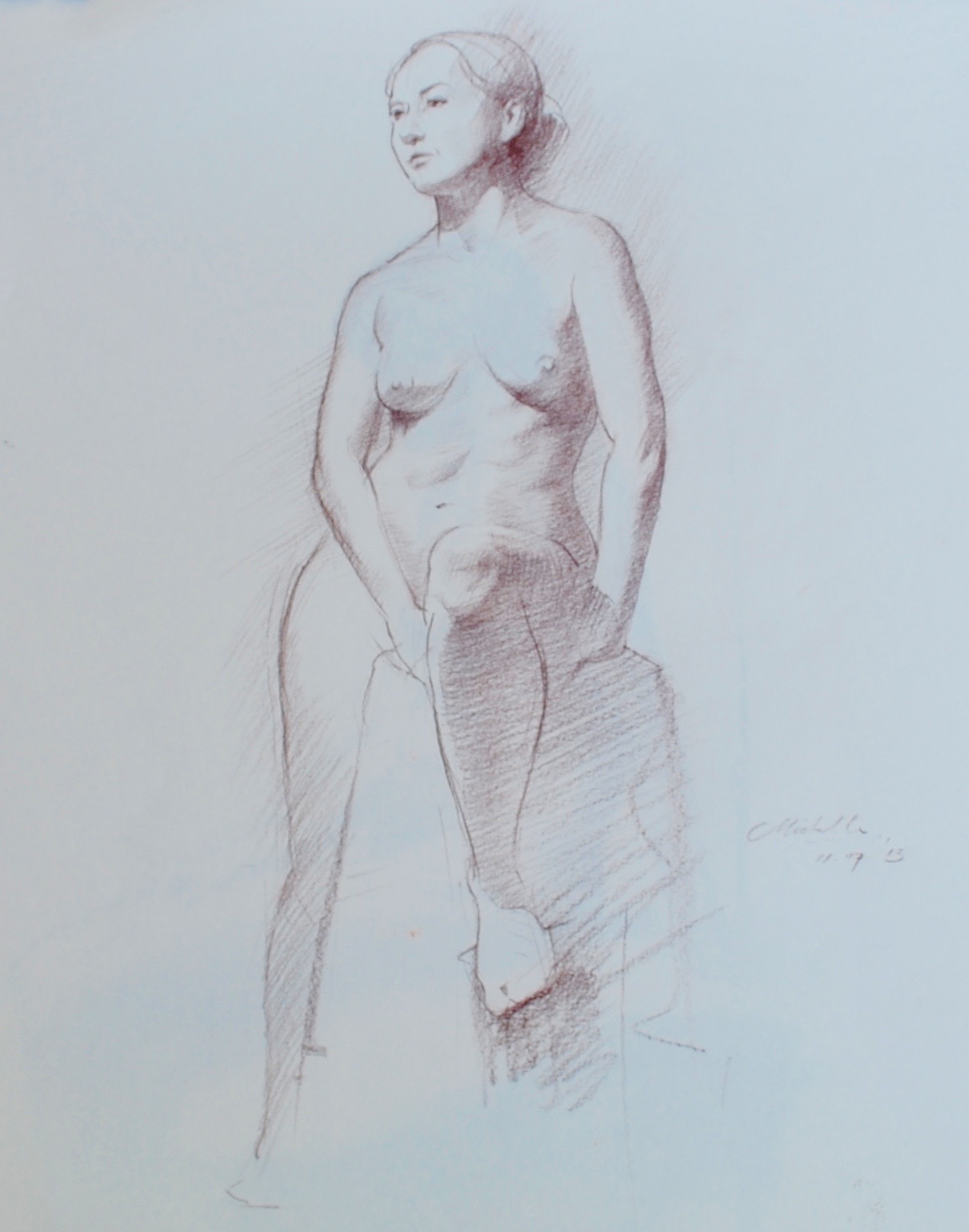 But the transition in how I actually see things today have made this sort of work, the attraction of it I guess, wane significantly.  For years, the broad brush has been replacing the sharpened point in my working world as a painter, and that's infecting my drawing now in a bigger way.  That's probably a sign of growth.
I'm not necessarily congratulating myself, though.  I still love and respect careful observation, but now it needs expression through a broader sweep, energy, and implied (rather than directly stated) information to really grab me.  I now prefer the knowing "touch", an emphasis on suggestion, and a simply stated grasp of essentials, which I believe may shine brighter through less conscious, direct means than in the more careful rendering of earlier works.
So…
Enter the Cont'e Crayon.
This legendary tool has been around for a couple of centuries now, and yet I've never REALLY hammered away with it for an extended period of time. Nor have I known anyone who has. I always associated it with a sort of quick, squared-off, illustrative look and so I kept a bit of distance from it.  The kicker is I took up pastel painting precisely because I wished to get into a broader type of work not reliant on details.  So it's appropriate that I finally deal with Cont'e .
My Deal
I've made an agreement with myself to work with them exclusively over the summer in my figurative work.  I simply wish to get this blunt but beautiful tool under my belt as a resource, to create more painterly drawings than I would otherwise.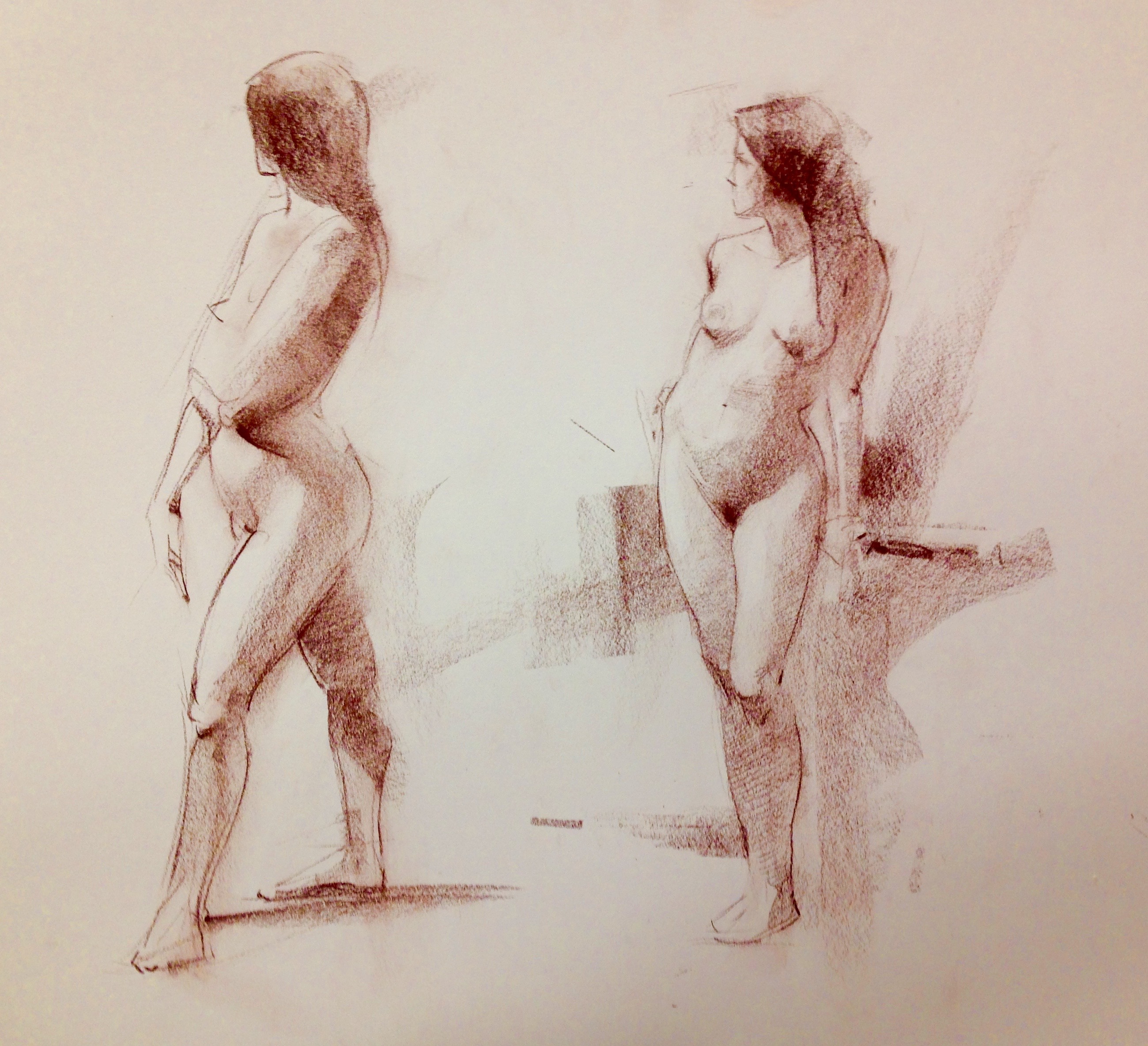 By way of example, these are a pair of relatively quick drawing of M.B. from last night…her first time as a subject in my class and the second evening of my new commitment to working in Cont'e alone.
The Cont'e work was a very light mapping with a corner of the stick ( the Cont'e equivalent of a point), then values added with the broad edge, and then some contour redrawing, soft blending with a finger where needed, hatching over that, and finally hitting main darks and some lifting with a kneaded eraser at the end.  Each of these drawings was about 20 minutes or so, and they seemed to roll off almost effortlessly.
So I'm happy to be under way with this new effort…and the gesture drawings are even more fun.  I'll post some when I get them photographed.
Thanks for reading, I hope you've enjoyed it!