Our "Painting the Museums en Plein Air" class had our final get together for 2014 on Wednesday morning at Spalding House on Oahu.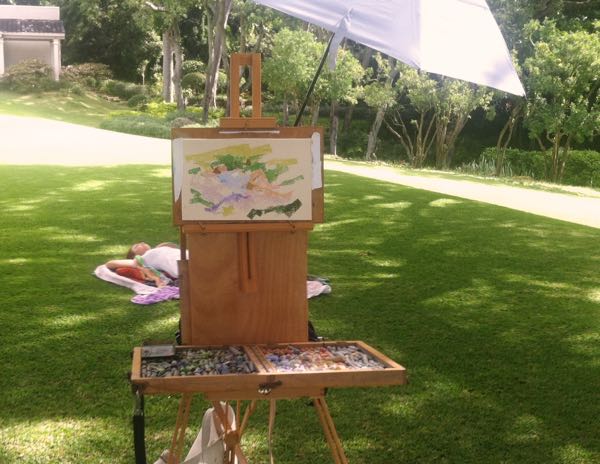 Our model, Michelle, took a reclining pose…and we took advantage of superb weather and luscious surroundings to put in a couple hours with her before having our traditional Artist's Holiday Bohemian Bacchanalia (Christmas Party).  We had a great time, and I'm happy to have been able to work with this fine group.
A straightforward approach to painting a pastel figure outdoors
As an informal demonstration, I decided that a small pastel piece that dealt directly with the subject in terms of color, shape, and value alone would be interesting. The piece was done without a preliminary drawing, but just as a seeing project.  Simple, mostly squarish strokes ( I refer to them as "tiles")  of the appropriate color and value placed selectively and as simply as I could.  Very clean color can be had this way.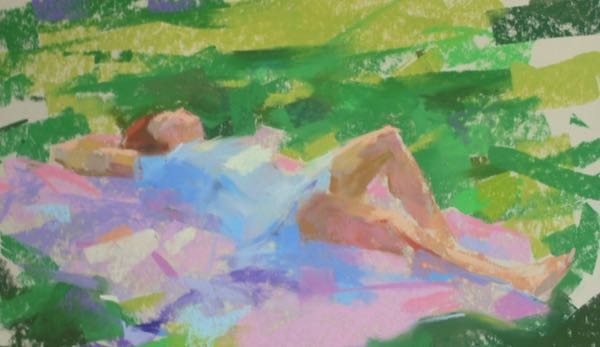 I fussed with it a bit after, but essentially it's a direct-from-nature piece, 7 1/2 x 10 inches on some pale yellow Ersta paper I have.  I have plans to frame this one rather soon for a small show, so the frame, mat, and glass are waiting.
If you are interested in finding out more or joining us, you are welcome to check the schedule for our upcoming class here.